---

The book rescuer : how a mensch from Massachusetts saved Yiddish literature for generations to come / written by Sue Macy ; illustrated by Stacy Innerst.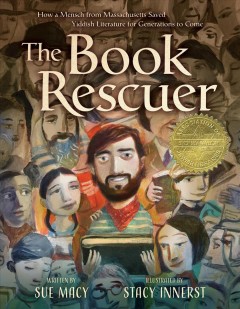 Available copies
Current holds
0 current holds with 2 total copies.
Summary:
Over the last forty years, Aaron Lansky has jumped into dumpsters, rummaged around musty basements, and crawled through cramped attics. He did all of this in pursuit of a particular kind of treasure, and he's found plenty. Lansky's treasure was any book written Yiddish, the language of generations of European Jews. When he started looking for Yiddish books, experts estimated there might be about 70,000 still in existence. Since then, the MacArthur Genius Grant recipient has collected close to 1.5 million books, and he's finding more every day.
Location
Call Number / Copy Notes
Barcode
Shelving Location
Circulation Modifier
Age Hold Protection
Active/Create Date
Status
Due Date

Adams Public Library

X Macy

(Text)
37810000064997

Juvenile Fiction

Book
Branch_Only_3months
11/02/2020
Available
-
Record details
ISBN:

9781481472203

ISBN:

1481472208

Physical Description:

48 pages : color illustrations ; 29 cm

Edition:

First edition.

Publisher:

New York :

Simon & Schuster Books for Young Readers,

[2019]

Copyright:

©2019
Content descriptions
General Note:

"A Paula Wiseman book"

Bibliography, etc. Note:

Includes bibliographical references (page 47).

Summary, etc.:

Over the last forty years, Aaron Lansky has jumped into dumpsters, rummaged around musty basements, and crawled through cramped attics. He did all of this in pursuit of a particular kind of treasure, and he's found plenty. Lansky's treasure was any book written Yiddish, the language of generations of European Jews. When he started looking for Yiddish books, experts estimated there might be about 70,000 still in existence. Since then, the MacArthur Genius Grant recipient has collected close to 1.5 million books, and he's finding more every day.

Target Audience Note:

Ages 4-8.

K to grade 3.

890L Lexile
Search for related items by subject
LDR
02397cam a2200505Ki 4500
001
2260308
003
SAGE
005
20191007091000.0
008
180823s2019 nyua b b 000 0beng
010

.

‡a

2018040581
020

.

‡a

9781481472203

‡q

(hardcover)
020

.

‡a

1481472208
035

.

‡a

(OCoLC)1050456670
042

.

‡a

pcc
043

.

‡a

n-us-ma
040

.

‡a

DLC

‡b

eng

‡e

rda

‡c

DLC

‡d

OCLCO

‡d

OCLCF

‡d

BDX

‡d

YDX

‡d

TCH

‡d

OQX

‡d

JTH

‡d

LMJ

‡d

OCLCO

‡d

ORLCL
050
0
0

.

‡a

Z989.L36

‡b

M33 2019
082
0
0

.

‡a

020.75

‡a

B

‡2

23
100
1

.

‡a

Macy, Sue,

‡e

author.
245
1
4

.

‡a

The book rescuer :

‡b

how a mensch from Massachusetts saved Yiddish literature for generations to come /

‡c

written by Sue Macy ; illustrated by Stacy Innerst.
250

.

‡a

First edition.
264
1

.

‡a

New York :

‡b

Simon & Schuster Books for Young Readers,

‡c

[2019]
264
4

.

‡c

©2019
300

.

‡a

48 pages :

‡b

color illustrations ;

‡c

29 cm
336

.

‡a

text

‡b

txt

‡2

rdacontent
337

.

‡a

unmediated

‡b

n

‡2

rdamedia
338

.

‡a

volume

‡b

nc

‡2

rdacarrier
385

.

‡n

age

‡a

Children

‡2

lcdgt
500

.

‡a

"A Paula Wiseman book"
504

.

‡a

Includes bibliographical references (page 47).
520

.

‡a

Over the last forty years, Aaron Lansky has jumped into dumpsters, rummaged around musty basements, and crawled through cramped attics. He did all of this in pursuit of a particular kind of treasure, and he's found plenty. Lansky's treasure was any book written Yiddish, the language of generations of European Jews. When he started looking for Yiddish books, experts estimated there might be about 70,000 still in existence. Since then, the MacArthur Genius Grant recipient has collected close to 1.5 million books, and he's finding more every day.
521
8

.

‡a

Ages 4-8.
521
8

.

‡a

K to grade 3.
521
8

.

‡a

890L

‡b

Lexile
600
1
0

.

‡a

Lansky, Aaron,

‡d

1955-

‡v

Juvenile literature.
610
2
0

.

‡a

National Yiddish Book Center (U.S.)

‡x

History

‡v

Juvenile literature.
650
0

.

‡a

Book collectors

‡z

Massachusetts

‡z

New Bedford

‡v

Biography

‡v

Juvenile literature.
650
0

.

‡a

Jewish men

‡z

Massachusetts

‡z

New Bedford

‡v

Biography

‡v

Juvenile literature.
650
0

.

‡a

Yiddish language

‡x

Revival

‡v

Juvenile literature.
655
7

.

‡a

Picture books.

‡2

lcgft
655
7

.

‡a

Biographies.

‡2

lcgft
700
1

.

‡a

Innerst, Stacy,

‡e

illustrator.
902

.

‡a

MARCIVE 112020
999

.

‡e

Book
905

.

‡u

admin
901

.

‡a

on1050456670

‡b

OCoLC

‡c

2260308

‡t

biblio